The conference venue on Gather.Town
We introduce... the virtual MPI for Neurobiornithochemistry:
As registered participant, you should have received an email with the explanation of how to enter the MPI for Neurobiornithochemistry in Gather.Town. If you are registered and did not receive an email, please write us to mpsn2021@biochem.mpg.de.
Short intro to use Gather.Town (TL;DR version):
Move around using the arrows or the W-A-S-D keys on your keyboard
Press "X" to interact with things or to enter Zoom
See below for more details and trouble shooting for moving around in Gather.Town.

Map of the conference Venue: The MPI for Neurobiornithochemistry in Gather.Town:
Build out of 99% sustainable pixels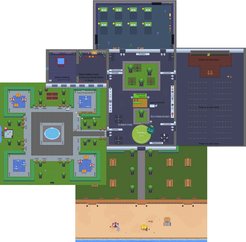 Gather.Town: Getting started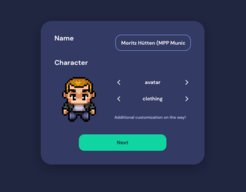 Gather.Town runs in your web browser. We recommend using Chrome, Firefox, or Edge. Safari may not run as smoothly as the others.
Give your browser access to your camera and microphone. Click on the little camera symbol in the address bar to change settings. By default, Gather.Town broadcasts you only if the tab with Gather.Town is open.
Enter the password (see your emails) and choose your name and avatar. We recommend choosing the name according the following format: Firstname Lastname (Institute abbreviation City)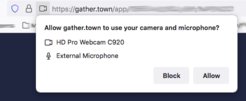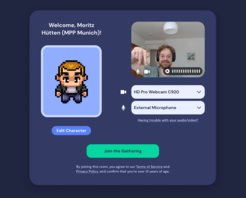 Gather.Town: Walking around
Use the arrows on your keyboard to walk around, or, like a real gaming pro, the W-A-S-D keys
Open the mini map at the bottom to see where you are
Use the X key to interact with things (read the black board, view the posters, enter Zoom lecture,...)
Use the G key to fly like a ghost through other people blocking you
Use the Z key to dance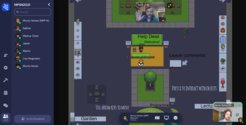 Gather.Town: Talking to people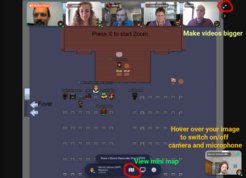 Switch on your camera and microphone to talk to people you are passing by: Camera und microphone symbols appear when you hover over the tile displaying you in the lower right
Enter a private space (mostly marked by carpets) to talk with a little group or a single person
Find people in the Institute by clicking on their name on the partipant list + "locate on map" , and follow the path
You can chat with only people nearby or everyone (everybody will see your chat messages)
Gather.Town: Switching to Zoom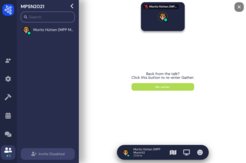 In the lecture hall and discussion rooms, you can enter the Zoom sessions to pressing 'X'. Then you are offered to click on a link bringing you to a Zoom session. When entering Zoom, you are muted and your camera is automatically switched off in Gather.Town (you become a ghost there). If you leave Zoom, you are offered to re-enter Gather.Town in the browser tab where you left Gather-Town:
Gather.Town: Troubleshooting
Just reloading the page will often help when stuck
If your PC is close to burn or everything is very slow, disable "Smooth Movement" in the Settings. This will significantly reduce your CPU load.
Microphone or video does not work: Check if you gave your browser access (see "Getting Started"). Check if you selected the correct device (e.g., if you have several cameras). Check whether another application (e.g. Zoom) is accessing them (causes problems on some systems).
We have had some problems launching Kahoot(stuck in white screen). Changing the browser could solve the problem on every system.
Get more help here: https://support.gather.town/help/av-troubleshooting
Gather.Town: I want to read more