A successful story: Sustainability Commission at the Max Planck Institute for the Science of Human History
Written by Yiming Wang
Established in 2020, the Max Planck Institute for the Science of Human History (MPI-SHH) Sustainability Commission is a member of the Max Planck Sustainability Network (https://www.nachhaltigkeitsnetzwerk.mpg.de/). Our central mission is to make our daily operation in the institute greener and more sustainable, and lessen the environmental impact from our research.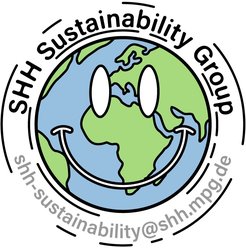 Our Sustainability Commission was very productive in 2021. We successfully implemented many important sustainable initiatives in our institute. In our office space, we established a new organic waste and glass recycling program, and we designed easy-to-follow instructions and posters demonstrating how to correctly separate waste (e.g. plastic, paper, packaging) in the institute. This is especially useful for the new international colleagues who just arrived in Germany. In our laboratories, we strive to substitute harmful and hazardous chemicals with green and sustainable alternatives. As a testimony to our effort in improving the sustainability and efficiency of laboratories, we joined the LEAF certification programme (Laboratory Efficiency Assessment Framework, https://www.ucl.ac.uk/sustainable/staff/leaf) in June 2021. We were the first laboratory in Germany to join the LEAF programme!
In regard to daily operations, our commission work with our purchasing department to ensure most of our office supplies are produced sustainably. For example, we have switched to sustainable and recycled paper and envelopes. To support sustainable transportation, we terminated the lease of our institute car. Instead, we will use rental cars. We are currently working on drafting and implementing sustainable travel policy for business and fieldwork. Whenever possible, we encourage colleagues to attend online conference or chose travelling by train instead of plane. We have three institute E-bikes for our guest scientists to commute in Jena. To promote sustainable businesses in our local community, we order vegetarian meals from local sustainable catering service for workshops and guest visits.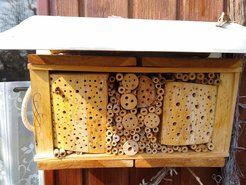 Our commission also organize fun and social events to bring awareness of our changing Earth and inspire our colleagues to adopt sustainable practices. Last year, we successfully organized our first Earth Week Event during the week of 19 – 23 April. Our earth week event was packed by different achievable sustainable actions from tick-box sustainable action challenges, building your own insect hotels, online movie and discussion, and quiz night. 23 teams and more than 43 colleagues participated the daily tick-box challenges. There were a total of 1933 sustainable actions in the institute for that week. We made a demo video how to build simple insect hotel, and several colleagues shared photos and documents of their own insect hotels from balconies and backyard. The online trivia quiz was conducted in bilingual (German and English) with informative and insightful questions, covering the five important topics of recycling, travelling, energy, food, and biosphere. Four teams participated the quiz.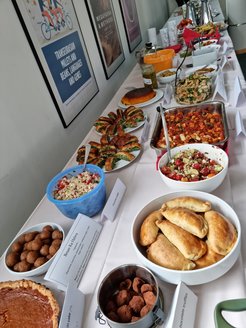 To honor the World Vegan Day (Nov. 1st), we also organized our first Vegan/Vegetarian lunch potluck in November. We had a wonderful international cuisine buffet and 23 colleagues participated the lunch with delicious homecooked food. We demonstrated vegan and vegetarian food are tasty and raised the awareness of less meat consumption. The positive feedback to this event was overwhelming, and many colleagues asked us to repeat this event in the future.
In 2022, we strive to continue our sustainable mission and make our contribution to fight climate change. Every Max Planck institute has the responsibility to work towards cultivating a sustainable research and working environment. As we pointed out in our institute climate statement (https://www.shh.mpg.de/2068740/climate-statement-mpi-shh), we strive to deduce our carbon footprint in our daily work and life. We will be proud to work with our global partners and local community to help achieve the changes needed to ensure a stable and safe future for everyone.