Practical Information
How to connect, video conference technology, wifi or cable, audio settings, your favourite conference catering and what to say when you meet your colleagues from Florida who just got up!
Internet Connection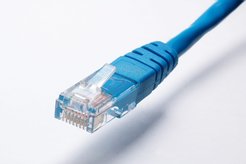 In order to participate in our network meeting, you need internet. For best audio and video quality we recommend to connect with a network cable. If you have Wifi only, please use an internet speed test service (e.g. www.speedtest.net) in order to locate the spot with the best wifi connection in the premises you are going to use for the virtual meeting.
Room Settings

Please work from a quiet room to keep background noises to a minimum, while video conferencing with others. Use a neutral background to minimize distractions for the audience looking into your room. Position yourself in such a way, that there are no light sources in your background, light should rather shine on your beautiful smile. For example, if you are in a room with a window, the window should not be behind you, but you should be able to look out the window.
Camera and Microphone Settings
Use a laptop or desktop computer, not your phone to create a stable video recording. We use BigBlueButton for video conferencing. Test your camera and microphone beforehand here:
https://test.bigbluebutton.org/
Please note that for many recent computers, built-in microphones work better than external headsets. If you have poor audio quality (incoming or outgoing), you can call a specific video conference number instead of the audio signal of the computer. If you use phone in parallel to the video signal of the computer, you should mute the computer loudspeaker and microphone in order to prevent audio feedback.
When video conferencing with others, please
Raise your webcam to eye-level
Mute your microphone when others speak
Turn on your microphone when you want to speak
Look into your camera, not screen, when talking
Dead links?
If you find any dead or wrong links on our webpage, please message Jakob of the coordination team directly on Rocket.Chat.
Meeting rooms
The link to our meeting rooms is top secret - you find it your e-mail.
Workshops
Based on your preferences we have assigned you to two workshops. You can find "your" workshops in the Workshop Participant List on the workshop page (access through the hidden link sent by e-mail). If you do not find your name in the list but have filled out the survey, please send us an email directly: green-team@cbs.mpg.de.
Notes
All presentations will be made available to the participants, so no need to take notes from presentations. However, we would like to take home discussion results and information from the meeting as much as possible. Therefore, it would be good if one or more persons would take joint notes in the workshops and CoRe working groups. For this purpose, the prepared documents in the respective ownCloud folders or the note tool in BigBlueButton can be used (before leaving the BigBlueButton room, please copy them into the note document in ownCloud).
Social Media
If you are active on social media, please use #susBRAINability! Please make sure not to post any screenshots without consent of depicted individuals.
Languages
The default language of the event is English. The Legal Aspects workshop will be held in German, all other official program parts in English. If you are in a virtual room with colleagues who all speak sufficient German, you can of course also communicate in German.
Time difference
Please note that there will be colleagues participating from different time zones. For European participants: please greet your colleagues from Florida with a friendly good morning, they had to get up very early!
Conference Catering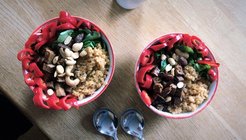 Please provide yourself with your favourite conference catering. We recommend climate friendly food, i.e. from regional origin and little or no animal products.
Consent Form for Video Recordings
Don't worry, we won't record everything! However, as a souvenir and as short "promotional film" we would like to capture some inspiring moments of our meeting (workshops, poster sessions, coffee breaks). Before we click the record button, we will let you know directly during the meeting. Here you will find a declaration of consent. Please let us know by e-mail if you want to decline the consent: green-team@cbs.mpg.de

Declaration of Consent for Video Recordings (in English and German)
Advertisement
Please tell your colleagues about the event and use the resources below! Share the poster illustrated below online + printed (DINA4). You can download it here.