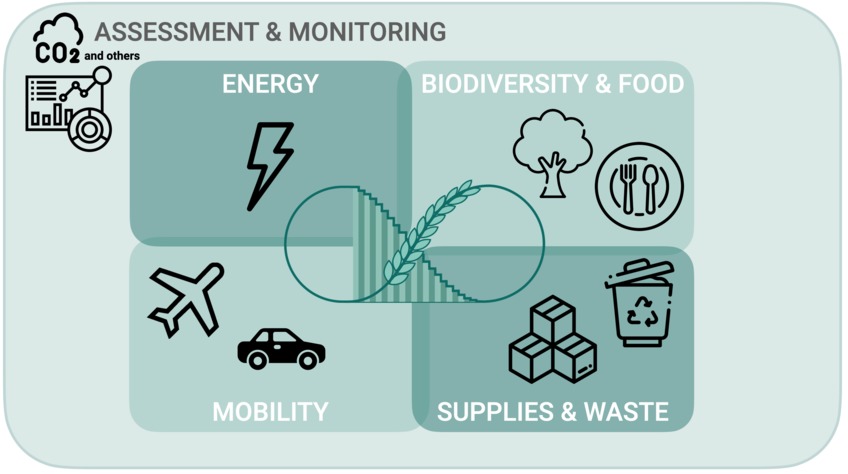 CaRe 2021
Catalogue of Recommendations for Sustainability in the Max Planck Society Katalog mit Empfehlungen für Nachhaltigkeit in der Max-Planck-Gesellschaft
Authors in alphabetical order / Autor*innen in alphabetischer Reihenfolge:
Kathrin Becka, Johannes Bundb, Tanguy Fardetc, Nick Fischerb, Wolfgang Goymannd, Karl Hoffmanne, Moritz Hüttenf, Knud Jahnkeg, Katharina Johnh, Christoph Lenzenb, Sophie Lohmanni, Evelyn Medawarj, Iris Möbiusk, Jan Rengerl, Jan Rybizkig, Jakob Schweizerm, Natalie Uominin,o, Andreas Voigtm and Marco Wietzoreckp
Affiliations / Affilierungen:
aMax Planck Computing and Data Facility, Garching; bMPI for Informatics, Saarbrücken; cMPI for Biological Cybernetics, Tübingen; dMPI for Ornithology, Seewiesen, eMPI of Molecular Cell Biology and Genetics, Dresden; fMPI for Physics, Munich; gMPI for Astronomy, Heidelberg; hMPI for the Study of Crime, Security and Law, Freiburg; iMPI for Demographic Research, Rostock; jMPI for Human Cognitive and Brain Sciences, Leipzig; kMPI for Biogeochemistry, Jena; lMPI for the Science of Light, Erlangen; mMPI for Dynamics of Complex Technical Systems, Magdeburg; nMPI for Evolutionary Anthropology, Leipzig; oMPI for the Science of Human History, Jena; pMPI for Chemistry, Mainz
Corresponding address: info@susnet.mpg.de
DOI: https://doi.org/10.17617/1.mpsn.2021.01
Publication Date / Veröffentlichungsdatum: June 15 2021
Language / Sprache: German / English
Full text (English and German Version)
Executive Summary
This document provides a Catalogue of Recommendations (CaRe) to promote environmentally sustainable practices in the Max Planck Society (MPG), compiled by employees of the MPG organized in the Max Planck Sustainability Network. The topics included in this Catalogue have been identified based on an initial evaluation and survey among MPSN members. A compilation of immediately implementable measures has been elaborated by topic-related working groups, based on effectiveness, costs, and feasibility to improve the sustainability of research practices in the MPG. All measures proposed in this document have been evaluated based on best available empirical knowledge.
We suggest the implementation of proposed measures during test phases and continuous monitoring of implemented measures. In parallel, we promote a detailed assessment of ecological footprints and specific conditions of institutes. This approach allows immediate action and careful evaluation at the same time. For certain "high risk" measures, the implementation at "pilot institutes" could be considered.
This document should serve to initiate exchange and discussions among different stakeholders in the MPG to improve recommendations based on experience and additional data.
Zusammenfassung
Dieses Dokument stellt einen Katalog mit Empfehlungen (engl. "Catalogue of Recommendations", CaRe) für den ökologisch-nachhaltigen Wissenschaftsbetrieb in der Max-Planck-Gesellschaft (MPG) dar, der von Mitarbeiter*innen der MPG, die im Max-Planck-Nachhaltigkeitsnetzwerk organisiert sind, zusammengestellt wurde. Die in diesem Katalog enthaltenen Themen wurden auf der Grundlage einer ersten Evaluierung und Umfrage unter den Mitgliedern des MPSN identifiziert. Eine Liste von sofort umsetzbaren Maßnahmen wurde von thematischen Arbeitsgruppen hinsichtlich Effektivität, Kosten und Machbarkeit erarbeitet, um die ökologische Nachhaltigkeit unserer Forschungsarbeit in der MPG zu verbessern. Alle in diesem Dokument vorgeschlagenen Maßnahmen wurden auf der Grundlage des besten verfügbaren empirischen Wissens bewertet.
Wir schlagen die probeweise Umsetzung der vorgeschlagenen Maßnahmen in Testphasen vor, begleitet durch ein kontinuierliches Monitoring. Parallel dazu befürworten wir eine detaillierte Evaluierung des ökologischen "Fußabdrucks" unter der Berücksichtigung spezifischer Rahmenbedingungen der Institute. Dieser Ansatz ermöglicht einerseits sofortiges Handeln und andererseits eine sorgfältige Evaluierung der Maßnahmen. Für bestimmte "risikoreiche" Maßnahmen könnte die Umsetzung an "Pilotinstituten" erwogen werden.
Dieses Dokument soll dazu dienen, den Austausch und die Diskussion zwischen den Vertreter*innen der verschiedenen Interessensgruppen in der MPG zu initiieren, um die Empfehlungen auf der Grundlage von Erfahrungen und zusätzlichen Daten zu verbessern.