Sustainability Scan 2022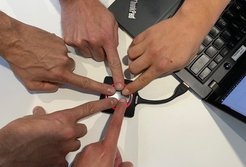 Aim
This survey will show which measures for sustainable research are implemented at the institutes and other facilities of the Max Planck Society (the term "sustainability" here refers to aspects of environmental and climate protection). The survey is based on the Catalogue of Recommendations (CaRe) for Sustainable Research by the Max Planck Sustainability Network: https://www.nachhaltigkeitsnetzwerk.mpg.de/doi-2021-care
Why?
Please support us to compile an overview of sustainability measures in the MPG to enable the exchange of experiences with best practice examples within the MPG and to facilitate the implementation of measures. This survey can help your institute to meet future challenges of energy savings, resource management and legal requirements for environmental and climate protection. In addition, you can use findings on successfully implemented sustainability measures as well as the collection of the data itself for the external presentation of your institute, e.g. on your website or in reports for the scientific advisory board or the institute's board of trustees ("MPI-Kuratorium").
Your contribution
Therefore, we would like to ask you to complete this survey to the best of your knowledge and in consultation with the responsible colleagues at your institute by 15 November 2022. It is possible to interrupt the survey at any stage and resume later. It is also possible to pass on the corresponding survey key (token in the URL) to allow other people to continue/contribute.
Dissemination of the results
The results will be made available to the Max Planck Sustainability Network to enable an exchange of experiences within the MPG and to facilitate the implementation of sustainability measures. We may publish anonymised results on the MPSN website and may use them elsewhere, e.g. in the form of a publication. No institute-specific data will be passed on to third parties unless binding consent has been obtained from the administrative management of the respective institute.
Contact
Should you have any questions or comments, or should a technical problem arise, please contact us at: info@susnet.mpg.de.
Become a "Sustainability Scanner" and let's make our research more sustainable!
Thank you very much for your participation and best regards,
Your Max Planck Sustainability Scan Team
Markus Oster, Jan Heidelberger, Katharina Höfer, Bianca Schell, Jakob Schweizer, Martin Vogel